eTraveler - September 6, 2023
September 6, 2023
Fall/Winter 2023 Iowa Travel Guides Now Available
The new Fall/Winter 2023 Iowa Travel Guide is now available for individual travelers and bulk ordering.
Notice:
If you've submitted a bulk order for the travel guides in the past, we have scheduled auto-shipping for the same order of the new guides. Please wait two weeks to receive your guides and/or place another order.
If you did not receive an auto-shipment or would like to order additional guides for your destination, follow the instructions below:
Login to your account on Travel Iowa
Click on the "Orders" tab on your profile
Click on the "Request Brochures" button
Check the box above the guide or map you would like to order
Select the quantity in the dropdown below the guide
Enter your shipping address if it isn't prefilled for you
Select the "I'm not a robot" box and click "Submit Order"
You will see an Order Confirmation page if your order successfully went through. If you experience issues, please reach out to Jim Lee (
jim.lee@iowaeda.com
).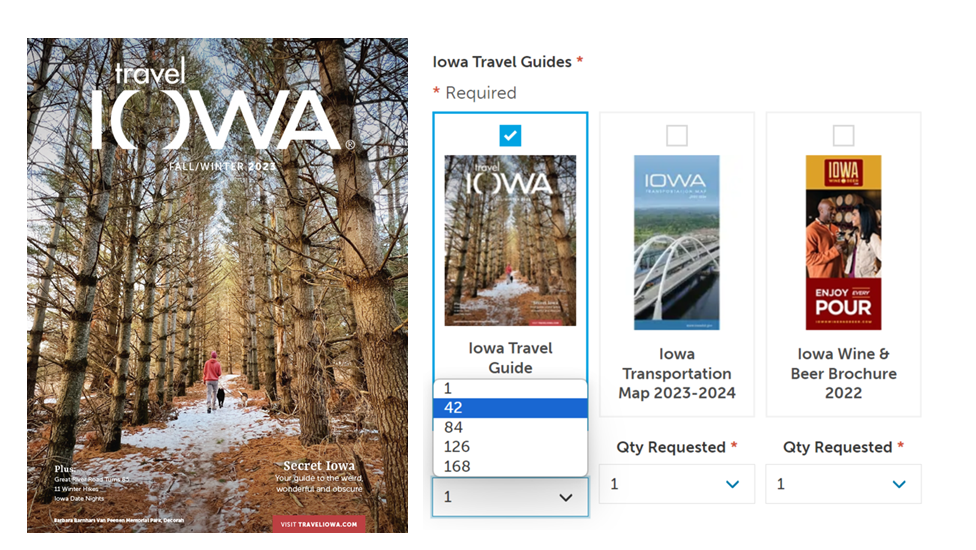 ---
2024 Iowa Travel Guide Planning in Process
The Fall/Winter 2023 Iowa Travel Guide will be our final seasonal
travel guide
. In 2024, we will return to releasing one annual guide. This decision was based on distribution quantities and traveler and partner feedback. Updated advertising rates and details will be shared soon.
---
Save the Date: Iowa Tourism Update
Mark your calendar for the next Iowa Tourism Update webinar, which will be held on Thursday, September 21 at 2 p.m. The webinar will be recorded and posted to the
Industry Partners website
for those unable to join live.
REGISTER
---
FY24 Iowa Tourism Grants Now Available
The
Iowa Tourism Grant Program
is now accepting applications through September 29, 2023. The program promotes tourism in Iowa by funding tourism-related marketing initiatives, meetings and events that benefit both the local and state economies. Preference will be given to projects that support the Iowa Tourism Office's overall marketing plan and applicants must be a tourism-related entity. This can include non-profits, for-profits, cities, counties and regional government and planning entities.
For questions, please reach out to Lora Friest (
lora.friest@iowaeda.com
).
---
Soul of Iowa 2.0 Influencer Content Going Live
As part of the Soul 2.0 campaign, we're coordinating influencer visits to 10 places across the state. Check out a couple of the most recent trips in the
Greater Ottumwa area/Mahaska County
and the
River Bluffs Scenic Bywa
y in northeast Iowa.
---
U.S. Travel Association's Latest Travel Data Update
The U.S. Travel Association recently released the Latest Travel Data update, which states that travel related spending has remained largely resilient and continues on a positive trajectory. Here are some things to note:
• The unemployment rate is historically low and wages are increasing faster than inflation, providing a boost to household purchasing power.
• While consumers remain inclined to spend, disposable income will likely decline toward year-end as a projected economic slowdown ensues.
• An upside to the expected slowdown is increased purchasing power, especially as inflation slows.
---
Upcoming Meetings
• September 21, 2023 - Iowa Tourism Office Update, virtual
• October 11-12, 2023 - Travel Federation of Iowa Tourism Unity Summit, Manning
• October 24-25, 2023 - Tourism Insider Meeting, Mason City
Check out the
calendar of events
for more details and upcoming meetings.