New Travel Areas Receive Personalities
After feedback from travelers and industry comments during strategic planning, an opportunity to simplify the current travel areas and align them more closely with traveler needs was discovered. Five new travel areas were established for marketing purposes to replace the previous 10 travel areas. Along with the new geographic boundaries, each area will have a new icon and name to build the area's personality. The new travel areas will be used for marketing projects, including the Travel Iowa website and Iowa Travel Guide.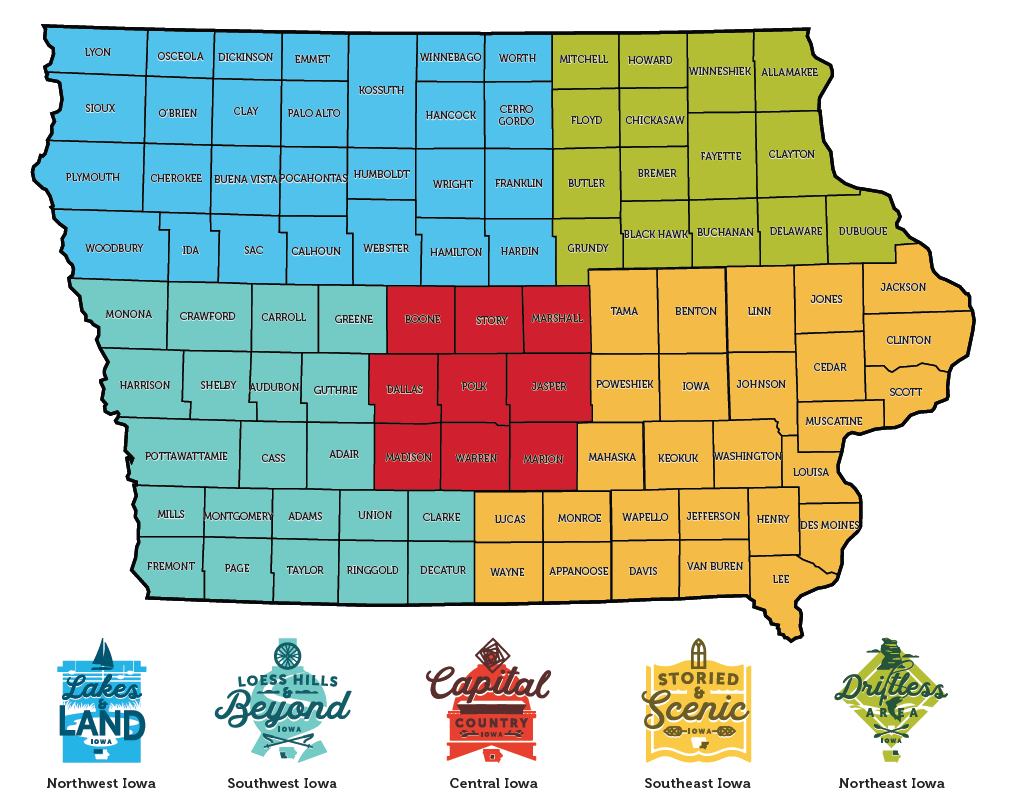 Lakes & Land
Northwest Iowa
Incorporates the area's prominent lakes and boating activities, prairie grasses and natural landscape, music notes depicting rich musical history of the area (Surf Ballroom, Iowa Rock & Roll Museum), all surrounded by a Frank Lloyd Wright-esque window background.
Loess Hills & Beyond
Southwest Iowa
This area features a sea of rolling hills, charming towns and historic landmarks, where visitors can bike, hike and play outdoors. The train engine background shape brings in the area's deep railroad history.
Capital Country
Central Iowa
Surrounding the state's capital city of Des Moines are incredible rural tourism attractions, like the High Trestle Trail, the Bridges of Madison County and Pella's Dutch architecture and tulips. The Capitol building dome provides a stately backdrop.
Driftless Area
Northeast Iowa
The state's unique topography and limestone cliffs are on full display in the Driftless Area. Freshwater springs are fodder for trout fishing and whitewater courses are abundant. The diamond background shape represents the iconic Field of Dreams.
Storied & Scenic
Southeast Iowa
Iowa's history, creativity and culture come alive in this area. Grant Wood called the area home, the banks of the Mississippi River are home to historic river towns and everything is outlined by an open book.
For more information, contact:
Amy Zeigler
Email Amy