eTraveler - June 28, 2023
June 28, 2023
Last Call to Register for Tourism Day at the Iowa State Fair
Join Iowa Tourism Partners at the Iowa State Fair for the first Tourism Day at the Fair, to be held Thursday, August 17 from 10 a.m. to 4 p.m.
• Fair hours - 8 a.m. to midnight
• Fair buildings - 9 a.m. to 8 p.m.
• 10:30 to 11 a.m. - Iowa Tourism Welcome at CEO Jeremy Parson's home (outside Gate 15, follow signs)
• 11 a.m. to 2 p.m. - Explore the Fair (a scavenger hunt and points of interest map will be provided)
• 2 to 3 p.m. Education Session - Hear from Fair staff about marketing, planning and executing Iowa's largest event, learn about statewide August visitation patterns and participate in an open forum about event management (Maytag Family Theater, east room)
• 3 p.m. - Explore on your own
Registration closes on June 30. A limited number of tickets are still available. Each registration can receive up to TWO free admission tickets to the Fair.
Tickets are first-come, first-served and are non-transferable. Parking is not included. Tickets will be mailed to the address you submit after June 30.
---
Save the Date: Iowa Tourism Update
Mark your calendar for the next Iowa Tourism Update webinar, which will be held on Thursday, July 20 at 2 p.m.
REGISTER
---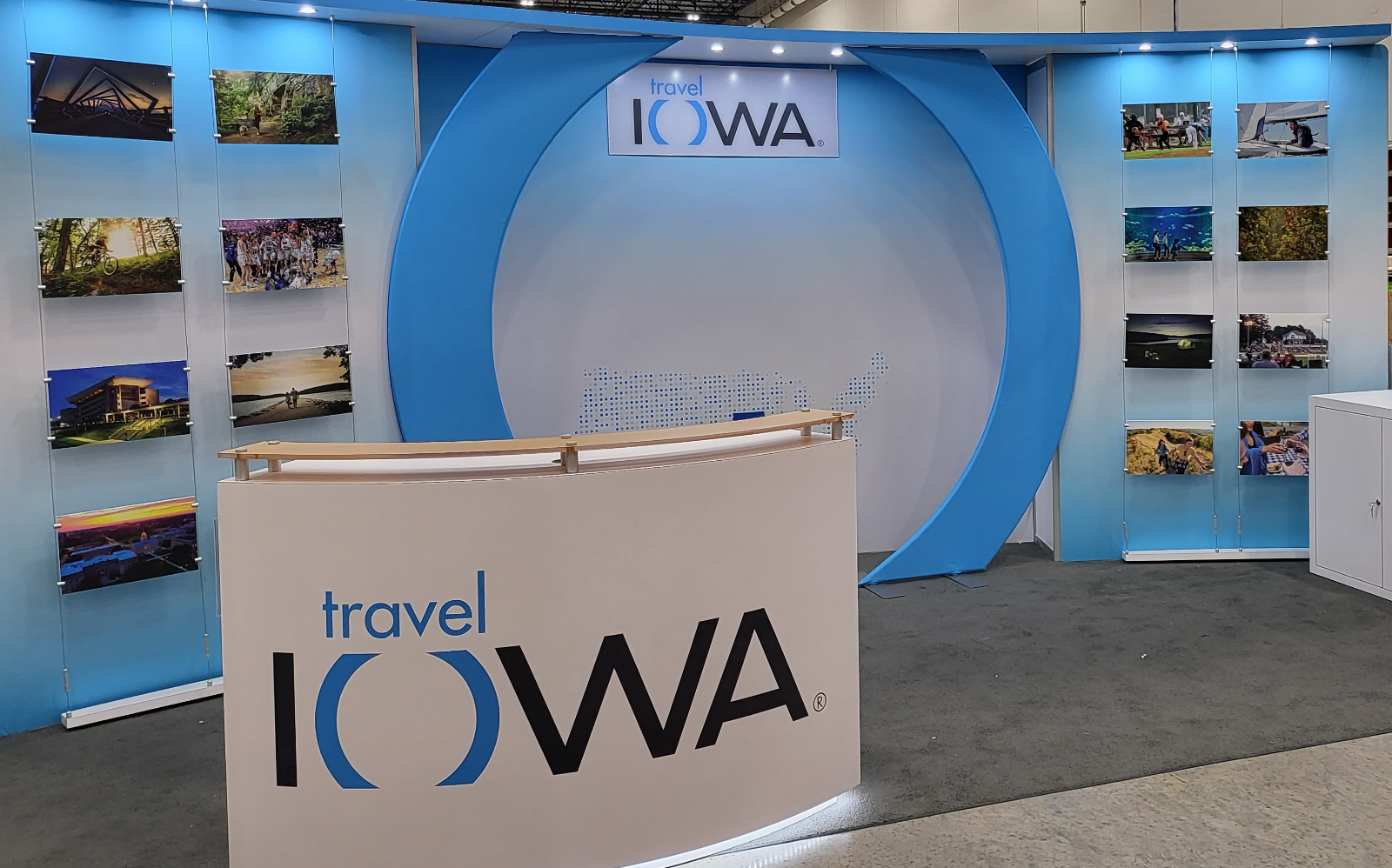 Promotional Opportunity at the Iowa State Fair
The Travel Iowa tradeshow booth will have space in the Varied Industries Building at the Iowa State Fair! We are looking for volunteers to staff the
tradeshow booth
– in return you will be able to speak to Fairgoers about your destination during your time slot, have printed materials and video promotion throughout the Fair and receive free admission and parking for the day of your shift.
There are two time shifts available each day of the Fair:
• 9 a.m. to 2:30 p.m.
• 2:30 p.m. to 8 p.m.
Volunteers are responsible for staffing the booth during their shift. We recommend you have at least two people (and up to four) on your shift so there is booth coverage if someone needs to step away momentarily. This opportunity is available for all tourism partners statewide.
To volunteer for a shift, contact Ann Vogelbacher with Central Iowa Tourism at 515.571.3855.
---
Call for 2024 Tourism Conference Committee Members
The Iowa Tourism Office is looking for individuals to assist with planning the
2024 Iowa Tourism Conference
, the premier event for industry professionals in the state. Committee members will provide input on speaker topics and meet virtually at least once a month. Please contact Katie Kenne (
katie.kenne@iowaeda.com
) if you're interested in participating.
---
Localhood Tips: Platform Updates
For those of you who are taking advantage of the FREE Localhood web story platform, there have been many questions about the recent updates.
Adding a title:
The title editor has been moved to the top left corner of the screen when creating/editing a story. If you do not fill it in, it will remain untitled. Please make sure all your stories have titles that include your location and Iowa.
Tags:
The fewer tags the better. Your stories are more likely to be pulled into the Travel Iowa homepage gallery if you use one or two tags that follow the monthly theme found on the
content calendar
.
Overlay Text:
Stories that include overlay text on most/all slides perform significantly better than stories without. We highly recommend using the overlay text to share fun facts or insider's tips about the destination or event you are promoting.
Join the platform or find more tips, tricks and resources on our
Localhood Industry Partners page
. If you have additional questions, please reach out to Amber Rottinghaus at
amber.rottinghaus@iowaeda.com
.
---
Reminder: Add Your Events to the Travel Calendar
Please be sure you're adding your community or organization's events to Travel Iowa's
events calendar
. Travelers are making plans for one to two weeks ahead of time, so now's the best time to be adding summer and fall events.
You can add events with or without logging in by visiting
Traveliowa.com
, scrolling to the bottom of the homepage and clicking "Submit Event."
If you run into any issues or have questions, feel free to reach out to Sammi Hakeem (
sammi.hakeem@iowaeda.com
).
---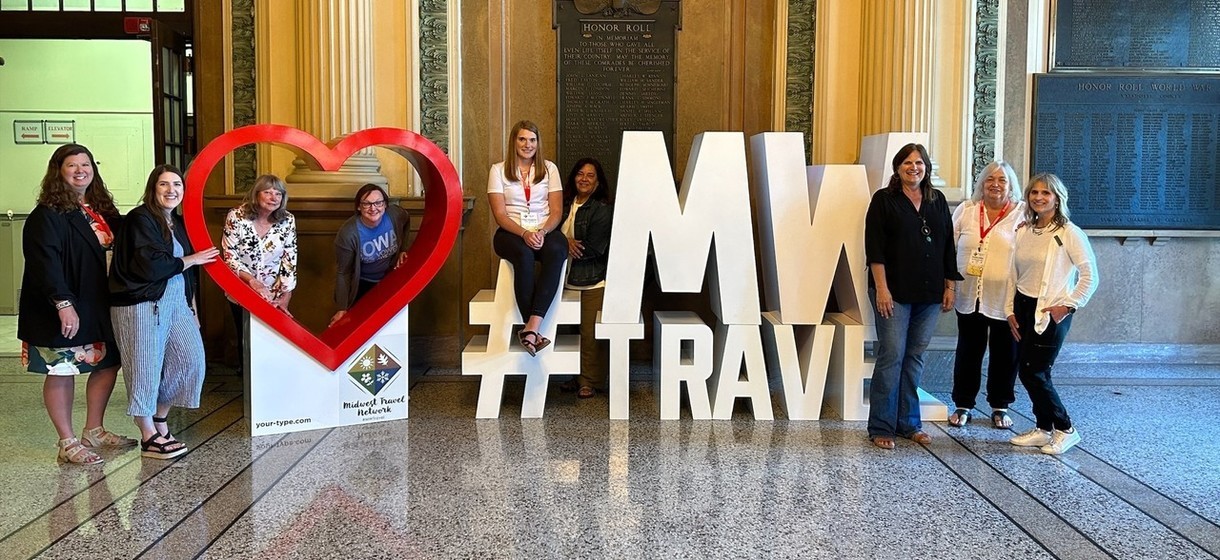 Iowa Represented at Midwest Travel Network Conference
Several Iowa destinations and bloggers attended the 2023 Midwest Travel Network conference in Kansas City earlier this month. The conference provides opportunities for destinations to network with bloggers from across the Midwest and attend educational sessions. At the awards ceremony, Fort Dodge was named Destination of the Year and Des Moines-based blogger Megan Bannister, or Olio in Iowa, received recognition for Best Social Media Campaign.
---
Iowa in the News
Here are some exciting media highlights featuring Iowa.
---
Upcoming Meetings
• July 20, 2023 - Iowa Tourism Office Update, Virtual
• August 17, 2023 - Tourism Day at the Iowa State Fair, Des Moines
• August 24, 2023 - Central Iowa Tourism Region Meeting, TBD
• August 29-30, 2023 - Tourism Insider Meeting, Pella
Check out the
calendar of events
for more details and upcoming meetings.