eTraveler - July 26, 2023
July 26, 2023
Catch Up: Iowa Tourism Update
Thank you to all who were able to join us for the Iowa Tourism Update webinar last Thursday. The webinar included updates about Soul of Iowa 2.0, information about the Iowa Tourism Marketing Grants and and 2023 visitation data from Arrivalist.
If you were unable to join live, you can watch the webinar recording
here
.
---
Tourism Insider Meeting Registration Now Open
Registration is now open for the next
Tourism Insider Meeting
, which will be held August 29-30 in Pella.
The meeting will start at 10:00 a.m. and lunch will be provided. It will focus on managing your destination's print publications, how to be featured in the Iowa Travel Guide, an Iowa Tourism Grant update, along with networking and an open forum for collaboration and discussion.
Attendees will also experience the town of Pella through a tour of the Pella Opera House and the Pella Historical Museum as well as learn the stories behind the creation of Nederlanders Tap and Golf.
The bulk of the meeting will occur from 10 a.m. to 4 p.m., but we encourage you to consider staying the night and joining us for an optional morning activity on Wednesday.
REGISTER
---
Remnant Space Available for FY24 Co-Op Program
Thank you to all the partners participating in the FY24 Co-op program. With your partnership, we were able to move forward with more than 80% of the opportunities. There is still limited space available in some of those outlets. Reservations will again be taken on a first-come, first-served basis.
Midwest Living
Illinois Country Living
Minnesota Monthly Ultimate Travel Guide
Missouri Life
South Dakota Living
Digital Native/Banner Ads (Sojern)
Tinybeans
Kansas City Billboard
Consumer Email Ad: February 2024
Dedicated Email: February 2024
Sponsored Content: January 2024
Social: August 2023 - January 2024
Please reach out to Jessica O'Riley (
jessica.oriley@iowaeda.com
) with questions or to reserve your space.
---
Share What's New in '24 for Virtual Media Event
For the last three years, we've held a virtual media event (known as unFAM) for influencers and reporters to share details on new openings, exhibits and events. Following the success of those events, we're doing it again for what's new in 2024! If you have a new museum exhibit, attraction or hotel opening in 2024, please send the information to Jessica O'Riley (
jessica.oriley@iowaeda.com
) by Friday, September 1 at 4 p.m.
There is no cost to participate in the unFAM if you are selected. We only ask that you provide a giveaway item that we can ship to participants in advance. They'll then "unbox" these surprises as they move though the hour-long showcase. This is an incredible opportunity to get in front of media and share your stories!
---
Call for 2024 Tourism Conference Committee Members
The Iowa Tourism Office is looking for individuals to assist with planning the 2024 Iowa Tourism Conference, the premier event for industry professionals in the state. Committee members will provide input on speaker topics and meet virtually at least once a month. Please contact Katie Kenne (
katie.kenne@iowaeda.com
) if you're interested in participating.
---
Wanted: Fall photos and/or videos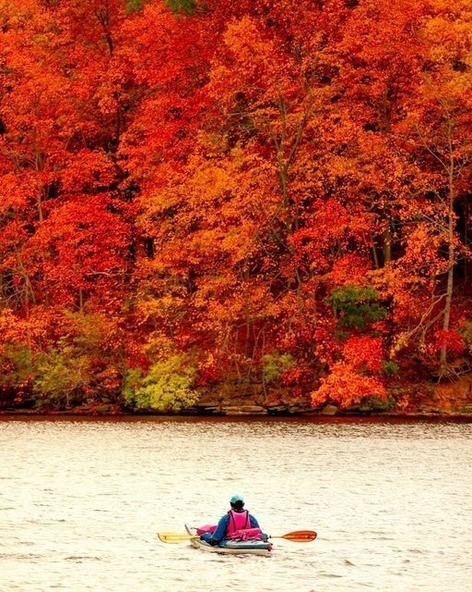 We're planning our next segment(s) on Paula Sands Live on KWQC in Davenport to take place in September or October that will showcase fall colors and attractions. To be considered for inclusion, please share your photos or videos of your destination with amazing red, orange and/or yellow leaves. Help us show off how stunning Iowa looks in the fall to potential travelers. The more vivid the colors, the better!
Please share them with Jessica O'Riley at
jessica.oriley@iowaeda.com
.
---
Northeast Iowa Regional Trails 2021 Economic Impact Analysis Now Available
The Upper Exploreland Regional Planning Commission has conducted an economic impact analysis of Northeast Iowa's regional trail system. The group found that Northeast Iowa's four current trails (Pony Hollow Trail, Prairie Farmer Recreation Trail, Turkey River Recreational Corridor and Trout Run Trail) attract over 120,000 annual trips. Trail-related industries generate over $6 million in annual spending and nearly $15 million in economic impact. The group also calculated the potential impact of scaling up the regional Backbone trail system, which could quadruple the number of annual trips and annual economic impact. Read the full report
here
.
---
Upcoming Meetings
July 26, 2023 - iTip Tourism Round Table Discussion, virtual
August 3, 2023 - iTip Webinar: The Practical Side of AI, virtual
August 17, 2023 - Tourism Day at the Iowa State Fair, Des Moines
August 24, 2023 - Central Iowa Tourism Region Meeting, TBD
August 29-30, 2023 - Tourism Insider Meeting, Pella
Check out the
calendar of events
for more details and upcoming meetings.